GatewaysGlobal has always been engaging when it comes to family-owned businesses. With respect to the same commitment, we do conduct productive surveys and research that provide statistical insight to us and the clients simultaneously. Here are the latest results and observations derived from a study carried out by Confederation of Indian Industries (CII) with GatewaysGlobal on the nourishment required areas of family businesses in an order of generations.
Family-owned businesses maintains a pivotal role in the economic situation in India and around the world. Owing to the large contribution to the GDP and employment scenario in Kerala or in the perspective of India, not only the big or large family business houses, even Micro, Small and Medium Enterprises or the MSMEs add to the dominant economic growth of the country.
Family business own a greater level of reputation and abides to principles making them move forward. Business holds the legacy and family values which runs through various generations. Family businesses small or big evolve over a period of time and comes across various hurdles posing concerns in its sustainability. Businesses face distinct management challenges among the generations due to their attitudinal and aspirational differences. Generational transition is the time when many family businesses or business families fail. For a business to be sustainable in long run, protecting heritage, it is to reassess, reframe, and reorganize its mission, operations, and ownership structure. Tied to the element of the ability to adapt and change, inherent in any growth story, it is not just a response to the external environment but the flexibility to change from within. Time to time the businesses and the people within has to be nourished with generation specific value additions.
In a recent study conducted by GatewaysGlobal LLP and Confederation of Indian Industries (CII) on the nourishment required areas of family businesses in various family businesses in Kerala, it was understood, each generation requires support in different and unique areas. In this study, data has been taken from the members of 3 generations from various organizations.
This study was with respect to specific focus groups on family members like,
The founder generation, the founding entrepreneurs who established an owner-managed company with strong vision.
The second generation, who plays a critical role in professionalizing and launching new initiatives to expand the enterprise.
And future generations, who displays different competency level with distinct style and perspective towards the company. They should have either entered the organisation or preparing for it.
Here, it focuses on understanding each generation in the family business and their potential challenges going forward.
The organizations with the founding generation holding the ownership sees below as their current challenges in family business.
Succession policy formulation
Conflict management
Family wealth management
Transition from founding generation to the next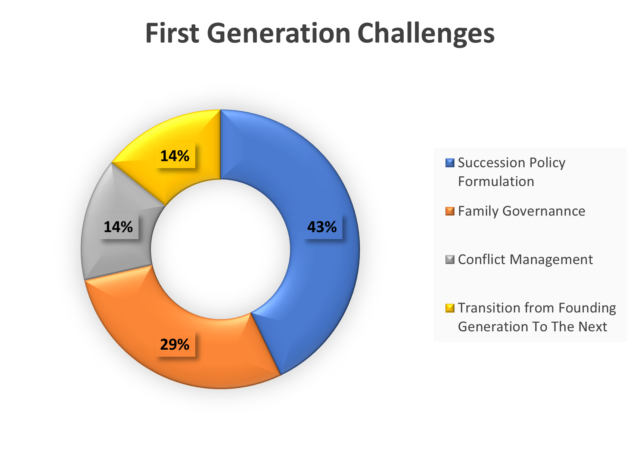 Among these, succession policy formulation is seen as the major challenge. It is also to be seen that 67% of respondents from the founding generation have not established a succession plan in the organisation and there is no family constitution / charter, family Trust and office taking care of personal wealth/expenses in place. Among them only 33% have defined training & development program established in the organization for next-generation family members. This clearly shows where it is to be focused to mitigate the challenges.
When we look at the literature, succession policy for a family business entails how transition of the management, the ownership and control of the business to the next generation of leaders, most often from within the family is to happen. This transition is a revolution in which the culture of the organization is restructured by the next generation, who brings with them new ideas about how business should be run, how to develop new working practices, new staff, new loyalties etc. Many times, due to lack of succession planning it breaks family business causing to uncertainty among staff, suppliers, customers, and family. So, with a defined succession policy makes it makes easier for the businesses to sail through the transitions.
Wealth management, which is also a challenge is difficult because personal and professional wealth is intertwined in the case of a family enterprise. Most founders fear that the next generation may not recognize the value of hard work put in to earn the assets and will take the inheritance for granted. On the other hand, members belonging to the next generation fear that they will not receive their rightful share of the inheritance and will not get an opportunity to take responsibility of their family wealth and grow it. Formation of trust and having family discussions mitigates the conflicts that may arise from wealth management.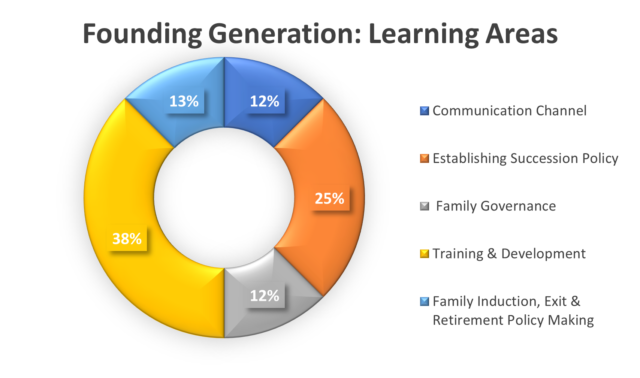 Also, Family businesses having defined procedures/ documents (such as shareholder agreements, conflict resolution mechanisms, emergency and contingency procedures, family councils, and entry and exit provisions) enable them to maintain the alignment between family interests and business objectives.
One of the ways to simplify these processes is hiring family business advisors who can guide through the various stages in streamlining the processes and setting the policies and procedures.
In the learning areas for the founding gen, establishing succession policy and training and development makes the top in list. As succession policy formulation is also a challenge for this gen proper training and guidance from industry experts and organizations can help in these areas.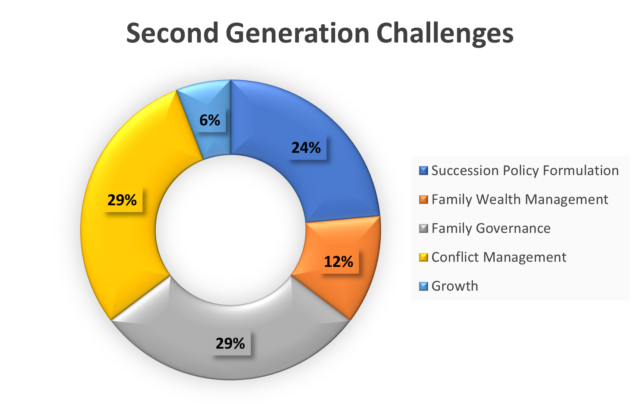 In this study, based on the data taken from the second generation run organizations, conflict management and family governance are considered as their top challenges along with succession policy formulation, family wealth management and growth.
The analysis of the report says, 50% of the 2nd generation respondents have challenges in communicating between the family members and in 40% of the organisations, roles and responsibilities of family members are not clearly defined and documented. 60% do not have a governance system like a family constitution / charter. A 40% have not created any process to separate Personal wealth & Organisational wealth and among these 30% require support in establishing personal will & family wealth management. 90% do not have a written down individual will in place and conflict management process established in the business. 100% of the respondents do not have functional family Trust and 70% do not have a family council in place. Only 40% has specific policies designed to induct the next generation family members into business and all the respondents feel next generation need support to focus on companies' growth.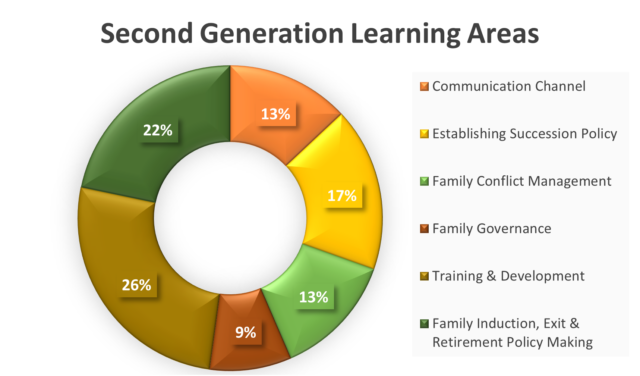 Over the years it is understood that, in family businesses, most conflicts are caused because family business owners perceive that their needs are not met. These conflicts arise on various issues such as how the wealth will be passed on to the next generation, choosing future leaders of the family and business, the strategy for business growth, performance of family members working in the business and setting of their remuneration levels etc. Between generations, there can be gaps in communication and credibility. The collision of expectations and the lack of communication can be emotionally charged but more importantly, harm relationships between key family members which eventually affects the business.
Family governance is also considered as a top a challenge by the second generation. A well-developed, implemented family business structure provides a framework for decisions and effective communication, unique to the family and business. At their best, governance systems create harmony between both family and business. Family governance framework has several bodies like family assembly, family council, family advisor board etc. The process of establishing a functional family business governance structure is iterative. Partnering with a trusted advisor with relevant experience can help avoid common pitfalls and imbue best practices into the development process. Regardless of where the family and the business are in their progression, a discussion about how to implement governance is a worthwhile exercise which can mitigate challenges of a family business. The key learning areas for this generation is training and development and the second top being family induction, exit and retirement policy making.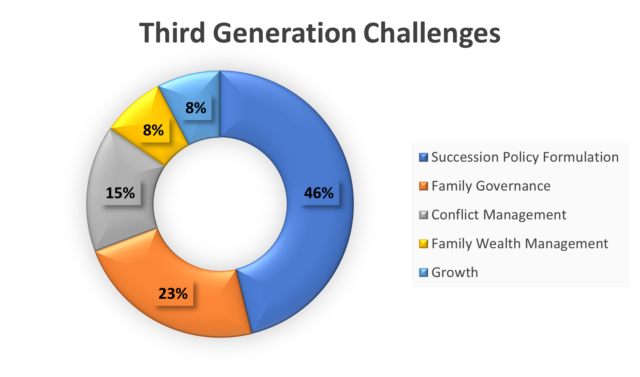 Data taken from the 3rd generations shows that in 62.5% organizations the ownership and management was held by the second generation and 37.5% organizations by 3rd generation. In this scenario, this generation feels succession policy formulation as the key challenge along with Family governance and conflict management, followed by family wealth management and growth.
62.5% respondents in this generation have exposed to any intergenerational conflicts. However, all of them have been part of family councils and 75% have seen the family constitution in the organization and are aware of the written down personal will and wealth management. Majority feels happy with the rewarding system for the family members in the organisation. 87.5% feels there is enough communication across generations. In this generation 75% responded that they are going through a clearly defined learning and development program and 50% responded that there is specifically defined learning program for the next generation in the organization. However, only 37.5% have gone through a selection process during your entry to the business. Overall, when we look at this generation, the family business organization has evolved over the generations.
The older generations want their next gen to grow their business bigger and improve the work they started. But flexibility and a willingness give them more responsibilities can take time and energy. Proper coaching and interventions by experts in family business dynamics will handle these challenges and will prep the next gen to take up the roles in a manner envisioned by the older generations.
The top learning areas for the third generations is identified as establishing succession policy formulation along with family governance, training and development, family induction, exit and retirement policy making and family conflict management.
For the study, 200 family-owned businesses have been contacted for data collection, however the response was very meager totaling to 24 organizations only.
Across all the generations, majority identified established brand, employee strength and already established network of dealers and suppliers as the strengths that exist in their family-owned business.  To keep these strengths intact, the challenges have to be delt with. As each generation carries different set of responsibilities and has a distinct work style, target-based programmes curated to understand generation level problems/concerns are to be provided.
As succession planning is a challenge across all generations, focusing on it and taking necessary steps to have a structured plan will avoid failure of a family business over successive generations. Foreseeing the family business over generations there by setting up and implementing structures, systems, processes, and policies like developing family governance, family constitution/charter, family councils, succession policies, etc. will pull down or solve the challenges that may arise and help in smooth running the family business over the years, For the setting up of these systems and processes, family can seek the interventions of family business coach.
Expert family business management organizations like GatewaysGlobal and industry support institutions like CII shall conduct sessions and interventions in the challenging and learning areas derived out of the study to equip and support the businesses.